Diseños Atractivos y Eficientes
¡Hola! mi nombre es Lidia - Soy Diseñadora Web & Gráfica, disfruto creando diseños innovadores, efectivos y atractivos. Tengo mucha experiencia en diseño de web, iconos, interface de usuario, diseño gráfico y diseño de aplicaciones para dispositivos móviles.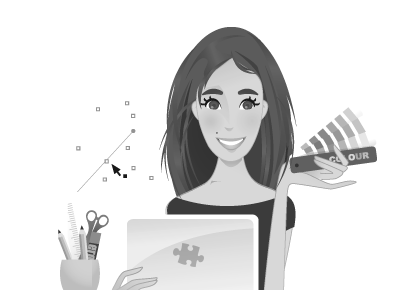 CREACIÓN DE ATRACTIVOS DISEÑOS, SIMPLES Y EFECTIVOS, QUE HARÁN RESPLANDECER TU NEGOCIO.
DISEÑO DE WEB
Webs adaptables a todos los dispositivos actuales, compatibilidad entre navegadores y las últimas tendencias.

DISEÑO GRÁFICO
Desde tarjetas de visita, folletería, catalogos y más.

APLICACIONES MÓVILES
Diseños adecuados al dispositivo, enfocados en la comodidad del usuario al utilizarlos.

DESARROLLO
Utilizando siempre la mejor tecnología junto a los desarrolladores de mi equipo de Alturabit.com
LO QUE DICEN MIS CLIENTES
(La mayoría de mis clientes son de Estados Unidos)
"Amazing professionalism, fast turn around, incredible experience and knowledge in graphics, web design, and user interface. She turned the mundane into an enterprise class looking website. We can not thank her enough. Working with Lidia in improving our site was the best decision we have made. Her professionalism and promptness in response and producing result are incomparable. It was my privilege to have encountered and associated with such a talent".
Roland Kedikian - terasnaps.com
"We are so pleased with Lidia's work. It has been described by members of our team as joyful, clean, inviting, professional and friendly. Her response time is unbelievable. We originally contracted with Lidia to do a very small project, but quickly became hooked on her work and have outsourced much of our internal web design work to her. From HTML/CSS to logos, to navigational graphics, the work produced has consistently exceeded our expectations, and helped us stay on time and within budget. I highly recommend her work".
MediRegs Team
"We asked for something simple and what we got over exceeded our expectations, thank you for a wonderful job. Lidia made a creative and professional site for our company, it was just what we hoped for and more! Now our customers can see what we are about! Thanks".
Intermarble Fabrication Corp.